Website Tips
Facebook Fans: now you have a way to access the Class of 64 website via Facebook
One-time procedure:
Click on Class Connection link (top of Member Functions)
Type Montgomery in the school field and click on our school.
Select 1964 in the Year field in the dropdown list and press Enter.
Respond to Facebook prompts as directed.
The last step is authentication. You can use the email opt-in option or simply type in your Class of 64 password. After authentication you will be online with our class website. Authentication is a one-time procedure.
This procedure will add Class Connection to your Facebook Apps. You can then access the class website from within Facebook by clicking on the Class Connection or you can access Class Connection from within the website by clicking on the Class Connection link under Member Functions.
Note: the website and Facebook share all information, so profile updates or messages occur in both applications.
Instant Messaging or Live Chat
One of the fun website features is chatting with classmates that are online. This feature is called Instant Messaging or IM. The website also has a more robust way to communicate called Live Chat, which is located on the Menu Bar or you can get to it by clicking on the Private Chat link after you have started a conversation with a classmate. Live Chat has many more features, like having a group chat or using a webcam to have a face-to-face chat. You can also share pics, videos, and YouTube videos through this channel.
As an example, I was talking to a classmate and she brought up Hisashi Miura (our Japanese foreign exchange student). Hisashi is a folk musician in Japan, and is on Facebook and Classmates.com. He's also on YouTube. She wondered what he looked like, and I said , "Give me a few seconds and I'll show you!" I pulled his photo off of his Facebook page, and found a YouTube video of him performing a song. I was able to easily share both of these through our chat session. She said, "OMG this is too cool!"
Below is the instant messaging window that automatically appears (unless you have closed it) when you log in. You can see whoelse is available to chat. If you don't want to be bothered or you are not actually at your PC, you can change your status by clicking on the down arrow by the word Online (under your name), and then click on whatever status suits your desire.
If you close the instant messaging window, you will receive the following message: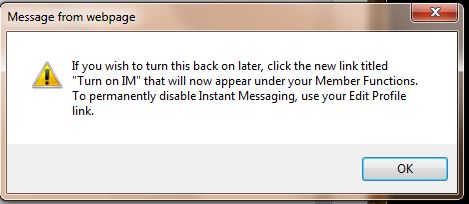 You will need to follow the instructions above if you want to chat. Have fun communicating with your old high school friends!